SOFT SKILLS - WHAT DOES IT MEAN?
WHICH SKILLS WE WILL NEED IN FUTURE?
The Organization for Economic Co-operation and Development (OECD) report on 21st Century Education Policy emphasizes that, students need to gain a deeper conceptual understanding of the world through learning, rather than superficial facts and procedures for a successful life and work in the knowledge society. Critical thinking and problem-solving top the list of skills that employers believe will grow in prominence in the next five years. But newly emerging this year are skills in self-management such as active learning, resilience, stress tolerance and flexibility.

More about differences between Soft skills and Hard skills available HERE
Watch VIDEO HERE
SKILLS – HARD AND SOFT SKILLS
Skills are abilities and capacities to organize and execute processes and abilities of individuals to apply knowledge in a responsible and appropriate way to achieve a goal. Skills are a holistic part of the concept of competencies, which includes the mobilization of knowledge, skills, attitudes and values that help to achieve set goals or demands (OECD Report, "Skills for 2030", full report is available HERE).
"Hard Skills" are methods or knowledge that an individual acquires at school or at the workplace. Examples of "hard skills" include IT programming languages, the nurse's ability to inject, the teacher's ability to teach a 1st grade student to read etc.
Interdisciplinary skills, sometimes referred to as "soft skills", are related to personality, human skills and work ethics. Most of these skills that an individual possesses are not taught directly but have been developed through life experiences both in the family, at school and through communication with friends as well.
In order to develop the abilities and skills needed in the future, an individual needs to have a good understanding of his or her personality, be aware of his or her strengths and weaknesses, and make a conscious decision about developing his or her skills and abilities.
WHICH SOFT SKILLS YOU WILL BE ABLE TO TRAIN WITH THE HELP OF THIS WEBPAGE?
For decades a crucial significance of soft skills has been neglected. Even curriculums of universities have not included subjects of soft skills probably hoping that students can acquire these skills on their own.
This web page will provide you with advanced research on five soft skills. Explore more about each skill in related section of this webpage:
Read more about each skill by clicking on the icon.
WHAT DO STUDENTS THINK ABOUT SOFT SKILLS?
In the spring 2020 we made a survey and asked to the students from different countries if they have heard about "soft skills", do they think universities are paying sufficient attention to training of soft skills of the students and which are the most important skills that students would like to develop.
HERE you can find the visualisation of the survey results. This survey shows that Universities should pay much bigger attention to the development of "soft skills" of the students. Full report can be found HERE.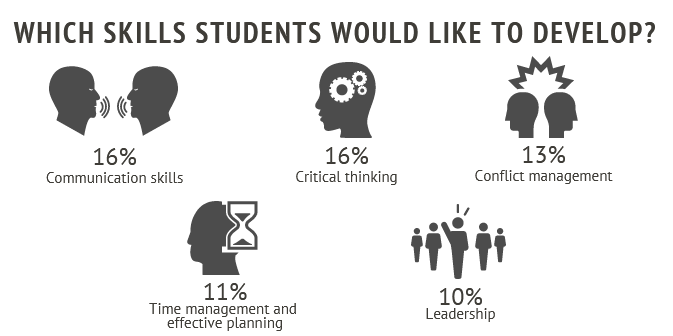 DO YOU KNOW YOUR PERSONALITY?
An individual whose actions are in harmony with his or her abilities, beliefs, values, and sense of identity or mission is generally considered to be efficient. An individual's I-concept or personal identity includes his/her differing roles, including personal traits and abilities. The same person may behave very differently in different circumstances, also personality type is closely related to different skills which he or she might have.
Do you know your personality? Your personality type? Read more about this topic in ARTICLE.
You can also try several on-line tests to identify your personality type and temperament:
5-STEP METHOD TO IMPROVE CERTAIN ASPECTS OF YOUR PERSONALITY
We offer a 5-step method that can help you decide on the need to consciously improve certain aspects of your personality. Read more about each step HERE.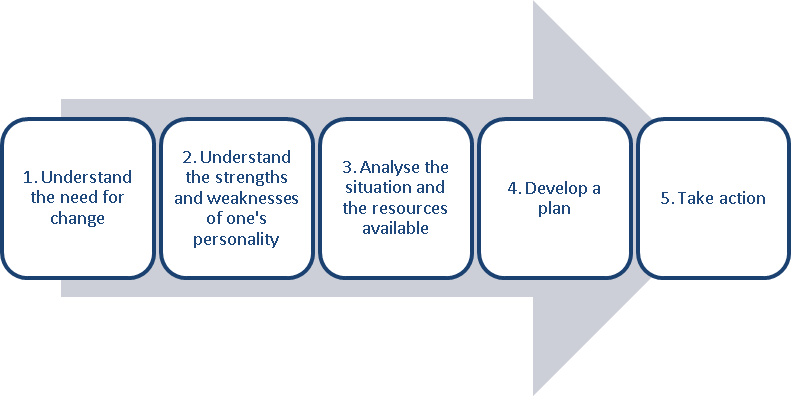 HOW TO HELP STUDENTS UNDERSTAND THEMSELVES?
The need for a paradigm shift in education is a global issue. If in the past good education was considered as knowing a lot, then today the goal of education is to understand the essence and be able to apply the knowledge. The knowledge base should not be divided according to the principle of separate subjects and courses, but should be oriented towards transversal or interdisciplinary skills. The student must be able to apply knowledge, skills and express attitudes in a complex way, solving problems in changing real life situations (Education 2030).
To a certain extent, a modern teacher becomes a student's personal development coach, helping the student not only to acquire certain knowledge, but also promoting the student's desire to be aware of how to learn what he/she would put into practice, what soft skills are needed to make it more effective.
While defining the goal and task of a specific study course, it is necessary to include the conscious development of the student's soft skills as an important task.
When creating the traditional feedback on what has been learned and understood in the lesson, it is necessary to encourage students to analyse issues such as:
• What soft skills are needed to apply what was acquired into practice?
• How do I assess my own personal level of these necessary soft skills at present?
• What can I do to raise the level of these soft skills?
When analysing group work on any specific phenomenon that is being learned, during the feedback it is necessary to encourage students to assess their soft skills, which were necessary to complete the specific learning task.
Department of Economics and Business Studies (DIEC) of the University of Genoa implemented project ""Behave Yourself!" Soft Skills Development Student Program. Project may be defined a guided self‐development program. It aimed at delivering students a light but complete self‐development method which can be used stand alone for a long time. READ MORE about soft skills and implemented project in Article by Laura Strazzeri "Soft skills in university education. "Behave yourself!" Soft Skills Development Student Program at the Department of Economics and Business Studies, University of Genoa", Impresa Progetto ‐ Electronic Journal of Management, n. 1, 2020.